COVID-19 Trial Lawyer Advertising
ATRA's latest report on trial lawyer advertising demonstrates the need for state legislatures to prioritize liability protection.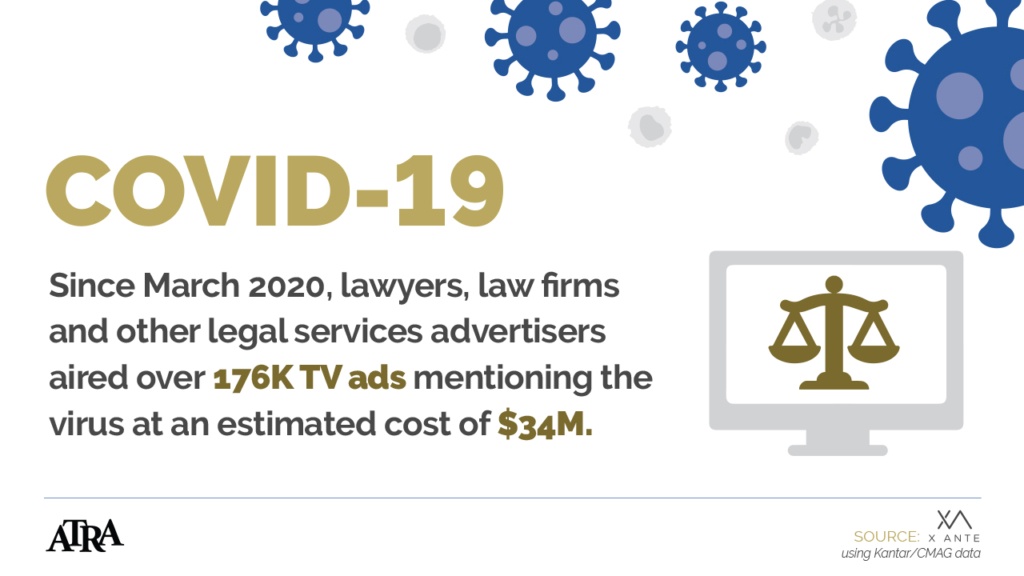 From March through December 2020, 176,053 TV advertisements for legal services and/or soliciting legal claims mentioning COVID-19 or coronavirus aired in the United States at an estimated cost of $34.4 million. When compared with legal services ads soliciting medical device claims, three times as many COVID-19 legal services ads aired. As of February 1, 2021, 8,200 lawsuits related to COVID-19 have been filed in the United States.
"These numbers show just how important it is for state legislatures to enact legislative solutions to support health care providers, businesses, and their employees who have been on the frontlines, responding to the pandemic."

ATRA President Tiger Joyce
Trial lawyers and aggregators increasingly spend large sums of money on television, digital, and print advertising to recruit new clients for class actions targeting a variety of industries. As the COVID-19 pandemic reached the United States, entrepreneurial personal injury lawyers saw yet another opportunity to profit off of a national crisis.
Early on, a coalition of national law firms specializing in mass tort litigation formed a "Coronavirus Litigation Task Force" to identify targets and theories for litigation. Law firm websites sprung up, inviting people to blame their illness or family member's death on someone rather than on the virus. Some websites provide a roadmap for suing for contracting COVID-19 at work. Others attempt to prompt lawsuits against nursing homes or others. One website, "Top Class Actions," uses that familiar language often heard on billboards and late-night TV ads: "If you believe that your rights were violated by a company as a result of the coronavirus pandemic, you may be entitled to compensation."
Recent polling shows broad bipartisan support for elected officials to respond to pandemic-related issues – rather than trial lawyers filing lawsuits to address such concerns. Key findings show 74% of respondents said the government should support small businesses affected by COVID-19 with grants or loans, versus 6% who said lawyers should help small businesses pursue legal claims instead.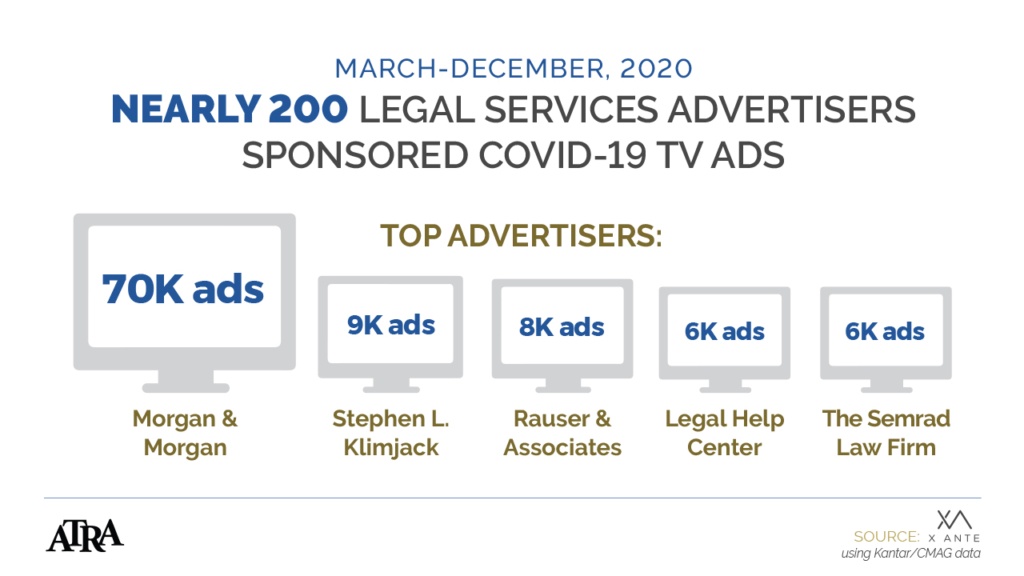 Despite the lack of public support for COVID-19 litigation, law firms advertised regardless. An analysis by the Wall Street Journal found that dozens of top law firms received millions in Paycheck Protection Program (PPP) loans. Some firms spent those dollars to increase their advertising, including U.S. powerhouse personal injury law firm, Morgan & Morgan. This report shows Morgan & Morgan as the top sponsor for COVID-19 legal services TV ads from March through December, airing approximately 70,000 ads at a cost of $10.5 million.
---
Want more updates on civil justice reform? Sign up for ATRA's occasional email updates.